Response NextGen
A World of Choice Awaits
Response NEXTGen is our signature console. From enhanced monitor mounting options to EVANS' patented ergonomic nosing and frame design, Response NEXTGen enables optimal efficiency for your operators.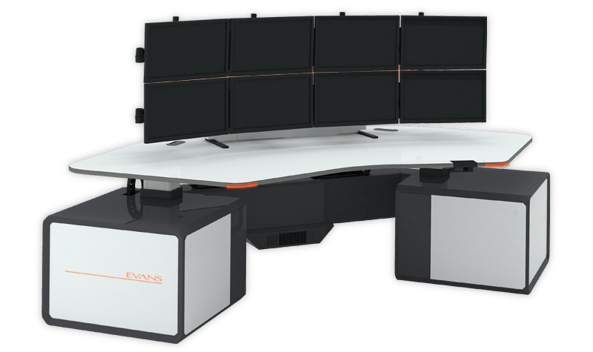 Configuration Flexibility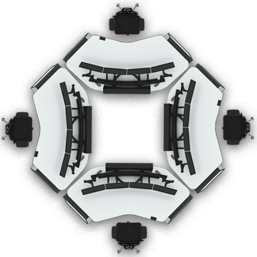 Designed to push the boundaries of tailored solutions, Response NEXTGen improves workflow and increases collaboration between workstations through its flexible design. You can configure consoles individually, in rows, clusters or collaborative groups, choosing from two, three and four positions with single or dual surfaces. Our Response NEXTGen provides you the complete design freedom to optimize your space and operators.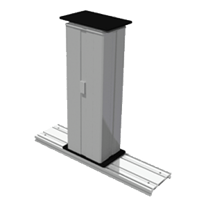 Powerful Sit-Stand
The progressive frame design gives the robust console an open sense, without compromising on power. Depending on your SCIF's requirements, the sit-stand can utilize heavy duty lift, light duty, or a combination of both lift columns to deliver a load capacity of up to 2500N. Ensuring safe functionality regardless of the technology housed on the work surface.
Enhanced Display Management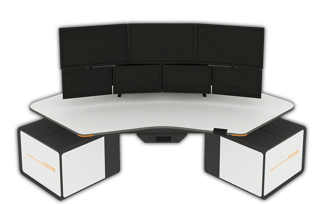 Response NEXTGen's monitor options are endless. From single height rows to advanced automated Display Management Systems like Unity Arm 2.0 and ASDS (Automated Secondary Display System), your operations will be equipped with the necessary visuals with perfect line of site to mission critical alerts and reports.
Unmatched Technology Integration
Regardless if it's a full cabinet enclosure or a fully open concept, Response NEXTGen can accommodate local or remote CPUs with ease. Response NEXTGen utilizes wider and deeper cable raceways, allowing you to run more cables in an organized manner. This sophisticated, integrated cable management system hides cables within the frame, while providing space to grow as your technology evolves over the life cycle of your command center.